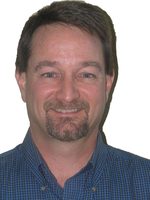 Jeff Renfro - Honeywell Process Solutions
Contact Information
Research Interests
Jeff is currently an Engineering Fellow for Honeywell Process Solutions and works jointly with the Advanced Process Control (APC) and UniSim simulation development groups. His expertise is in the development and application of equation oriented modeling and optimization technology to the solution of process simulation, optimization, estimation and control problems.
Education
University of Texas at Austin

B.S. Chemical Engineering (1982)
Austin, Texas

University of Houston, University Park

Advisor: Dr. O. Andreas Asbjornsen
Ph.D. Chemical Engineering (1986)
Houston, Texas
Dissertation: Computational Studies in the Optimization of Systems Described by Differential/Algebraic Equations.
A methodology was developed to efficiently solve optimization problems with models that contain nonlinear/implicit differential/algebraic equations as constraints. This involved the development of a large-scale nonlinear optimization algorithm/code and the use of orthogonal collocation on finite elements. This method was applied to the solution of dynamic optimization problems, including optimal control problems, and the Universal Dynamic Matrix Control (UDMC) problem formulation, which is a nonlinear version of the DMC technology. Problems in the dynamic optimization of an ammonia reactor model and dynamic process flowsheet problems were also solved.
Publications
Renfro, J.G., O.A. Asbjornsen and A.M. Morshedi, "Simultaneous Optimization and Solution of Systems Described by Differential/Algebraic Equations", Comp. & Chem. Eng., Vol. 11, No. 5, pp. 503-517, 1987.
Asbjornsen, O.A. and J.G. Renfro, "Modeling Plant Nonlinearities for Instantaneous Optimal Control", 1984 Automatic Control Conference, Boston.
Wilmarth, T., R. Wuyts, J. Crosby, R. Wagler, J. Renfro, J. Goodman, "Implementing Nonlinear Model Predictive Control", Petroleum Technology Quarterly, Spring 2002.
Baumrucker, B., Biegler, L.T. and J.G. Renfro, MPEC Problem Formulations and Solution Strategies with Chemical Engineering Applications, submitted for publication Feb 2008.
Published over 50 internal proprietary company technical reports on optimization algorithms, numerical analysis, process modeling and control technology related to the company products.
Experience
Jeff began his professional career in 1986 at Shell Development Company in the Operations Analysis group. In this group he was responsible for the maintenance and support of the optimization solver engine OPERA used for real-time optimization applications in Shell Oil.
In late 1986, Jeff joined Dynamic Matrix Control Corporation (DMCC), where he was the primary developer of the DMO real-time optimization software system. At DMCC, Jeff also served as a consultant to real-time optimization project teams and customers.
Jeff joined Dynamic Optimization Technology Products (DOT Products) in Oct. 1989 as Vice President Technology. At DOT Products, Jeff was the primary developer for the NOVA Product Suite, a software package containing components for model based simulation, control, estimation and optimization. He also worked closely with ExxonMobil Chemicals to productize NLC, the first commercially available first-principles based nonlinear model predictive control software used in the process industries. He provided support to NLC application projects internally and for ExxonMobil Chemical, including participation in commissioning activities.
In 2003, DOT Products merged with PAS. At PAS Jeff was Chief Engineer and continued to develop and support the NOVA Product Suite. Jeff also led several projects representing the first application of the NLC technology to a particular polymer process. In January 2007, Jeff joined Honeywell as a part of Honeywell's acquisition of PAS's Advanced Process Control & Optimization (APCO) division.
Interests and Awards
Recipient of a 2003 PAS "Key Contributor" Award in recognition of significant contributions to the company by PAS management
Professional Societies

American Institute of Chemical Engineers (AIChE)
Mathematical Programming Society (MPS)
Society for Industrial and Applied Mathematics (SIAM)