Fiber Optic Monitoring of Subsea Infrastructure
We conduct research in new methods to improve deepwater monitoring and address installation of advanced sensors on "already deployed" risers, flowlines, trees, and other deepwater devices in collaboration with Astro Technology and the Clear Gulf Project.
The research is part of the Clear Gulf Joint-Industry Project (JIP) that forms a collboration between Astro Technology, NASA, and various oil and gas companies. This partnership utilizes the test facilities and expertise of NASA for operating in remote environments and under harsh conditions. The objective of this collaboration is to jointly develop technology that minimizes impact on the environment, improves safety, and monitors critical energy infrastructure. A new area of application is the retrofitting of existing subsea structures with fiber optic monitoring sensors installed by divers or Remotely Operated Vehicles (ROVs).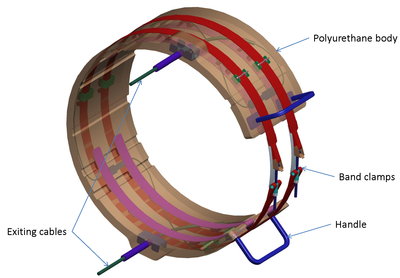 Benefits of Deepwater Monitoring
Monitor fatigue life on risers and flowlines by detecting Vortex Induced Vibration (VIV)
Maintain flow assurance of oil and gas transport pipelines
Meet regulatory reporting requirements and insurance qualifications
Visualize data from remote locations
Provide soft sensing by consolidating data streams into actionable information
Advanced control of upstream systems
Dynamic constraints may change constantly. Two of the most recent projects are
Tendon strain monitoring for Tension Leg Platforms (TLPs)1
Monitoring of deepwater flowline operating conditions to avoid hydrate formation2
Advanced monitoring and control is performed with the APMonitor platform for analyzing large-scale and complex systems such as these subsea structures.
References
Hedengren, J.D., Brower, D.V., Wilson J.C., High, G., Witherow, K., New Flow Assurance System With High Speed Subsea Fiber Optic Monitoring Of Pressure And Temperature, ASME 37th International Conference on Ocean, Offshore and Arctic Engineering, OMAE2018/78079, Madrid, Spain, June 2018. Preprint
Brower, D.V., Seaman, C., Bentley, N.L., Tang, H.H., Kipp, R.M., Wilson, J.C., Le, S.Q., Hedengren, J.D., Full-Scale Testing of a Friction-Based, Post-Installable, Fiber-Optic Strain Sensor for Subsea Monitoring Systems, Topic: 4-6 Innovative Technologies for Deepwater Low-Cost Production, Symposium 4 Pipelines, Risers, and Subsea Systems, ASME 37th International Conference on Ocean, Offshore and Arctic Engineering, OMAE2018/77117, Madrid, Spain, June 2018.
Eaton, A., Safdarnejad, S.M., Hedengren, J.D., Moffat, K., Hubbell, C., Brower, D.V., Brower, A.D., Post-Installed Fiber Optic Pressure Sensors on Subsea Production Risers for Severe Slugging Control, ASME 34th International Conference on Ocean, Offshore and Arctic Engineering, OMAE2014-42196, St. John's, Newfoundland, Canada, June 2015. Preprint
Seaman, C., Brower, D.V., Le, S., Tang, H., Development and Testing of a Post-Installable Deepwater Monitoring System Using Fiber-Optic Sensors, ASME 34th International Conference on Ocean, Offshore and Arctic Engineering, OMAE2015-41305, St. John's, Newfoundland, Canada, June 2015. Preprint
Asgharzadeh Shishavan, R., Brower, D.V., Hedengren, J.D., Brower, A.D., New Advances in Post-Installed Subsea Monitoring Systems for Structural and Flow Assurance Evaluation, ASME 33rd International Conference on Ocean, Offshore and Arctic Engineering, OMAE2014/24300, San Francisco, CA, June 2014. Presentation and Preprint
Brower, D.V., Brower, A.D., Hedengren, J.D., Asgharzadeh Shishavan, R., A Post-Installed Subsea Monitoring System for Structural and Flow Assurance Evaluation, Offshore Technology Conference, OTC 25368, Houston, TX, May 2014. Preprint
Brower, D., Hedengren, J.D., Asgharzadeh Shishavan, R., and Brower, A., Advanced Deepwater Monitoring System, ASME 32st International Conference on Ocean, Offshore and Arctic Engineering, OMAE2013/10920, Nantes, France, June 2013, ISBN: 978-0-7918-5531-7. Preprint Presentation
Brower, D., Hedengren, J.D., Loegering, C., Brower, A., Witherow, K., and Winter, K., Fiber Optic Monitoring of Subsea Equipment, OMAE 2012, Rio de Janiero, Brazil, Volume 1: Offshore Technology, Number: 84143, pp. 769-776, June 2012. Preprint | Presentation
Presentations