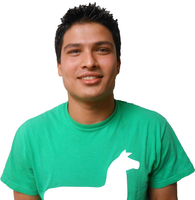 Suman Pokharel
Contact Information
Email: spokharel11@gmail.com
Education
Brigham Young University, Fulton School of Engineering and Technology, Dec 2012

Bachelor of Science in Chemical Engineering
Research Interests
Nonlinear Model Predictive Control (NMPC)
Publications
Coming soon...
Experience
Global Engineering Outreach

Field Trip to Peru, April 2012

Ventilated indoor spaces containing primitive cook stoves that significantly improved the health and safety of the occupants by minimizing exposure to smoke. (Field trip April, 2012)
Wrote proposals for different grants such as ORCA, ASME.
Researched, designed and discussed within a team of six people.
Analyzed sustainable aspect of the project.
Grants received: ORCA ($1500) and EPA ($15,000)
Designed and developed an oven for a rural school near Cusco, Peru.

NAVAJO Nation Trip, Sept 2010

Built rain catchers that collected rain water for livestock
Insulated Navajo's homes

P3 Competition Organized by EPA and ASU on Sustainability

Competed with teams from 46 different universities on Sustainable projects.
Shared and discussed various sustainable ideas.

Teaching Assistant (process control and dynamics, Che436) 08/2012 – current

Notify students on their mistakes in exams and home work-assignments
Facilitate professor for improved class lectures
Monitored student's performance
Graded assignments and exam Papers
Skills
Ability to optimize a process using tools such as CAMECAD, Aspen, APMonitor
Proficient in Mathcad, Excel and VBA
Technical and business presentation skills.
Languages: English, Hindi and Nepali (fluent oral and written).
Interests and Awards
Activity committee member for the GEO (Global Engineering Outreach) club
Committee member for Social Innovation Leadership Council (SILC)
Promoted health in Rampur by providing free treatment for eye cataracts
BYU full-Scholarship recipient for Fall 2008 & Winter 2009
BYU full-Scholarship recipient for Fall 2009 & Winter 2010
Rio Tinto Kennecott Scholarship recipient ($3000)