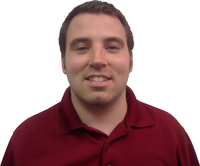 James Memmott
Contact Information
Education
Brigham Young University, Fulton School of Engineering and Technology, April 2014

Bachelor of Science in Chemical Engineering

Brigham Young University-Idaho, Rexburg, ID, April 2011

Associates in General Studies with a Chemistry Cluster
Research Interests
Fast Nonlinear Model Predictive Control (MPC)

Developing demonstration for 10-Hz MPC
Interfacing to multivariable process control experiment
Publications
Asgharzadeh Shishivan, R., Memmott, J.A., Hedengren, J.D., and Pixton, D., Pressure Regulation and Kick Attenuation with Wired Pipe Technology in Managed Pressure Drilling, AIChE Sring Meeting, New Orleans, LA, April 2014. Abstract
Brower, D., Brower, A., Memmott, J.A., Asgharzadeh Shishivan, R., and Hedengren, J.D., Advanced Monitoring Systems on Existing Deepwater Infrastructure for Intelli-Field Advances, AIChE Sring Meeting, New Orleans, LA, April 2014. Abstract
Experience
APCO Inc., Salt Lake City, UT, April-August 2011; May-August 2012

Worked on 3-4 projects at a time from city water treatment to industrial manufacturing and refining.
Worked with 2-3 other interns and engineers to solve problems and create new ideas.
Used a Varity of software including AutoCAD for drawing P&ID and electrical drawings, Excel to process and deliver information to clients and co-workers, and Telepace to program PLCs.
Ordered and Installed equipment in control panels.

PRISM Research Group, Provo, UT, August 2011-Present

Worked with Dr. Hedengren and 8 other researchers in various fields of process control.
Developed applications in Matlab, C, and APMonitor for model predictive control applications.

Volunteer experience, June 2007-June 2009, LDS Mission, Morristown, NJ

Led a group of 6-8 missionaries, held weekly training meetings and reported progress regularly to the mission leader.
Trained new missionaries to become effective leaders and teachers.
Interests and Awards