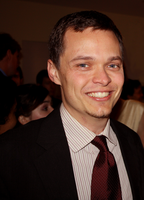 Ben Spivey - UT Austin
Contact Information
Research Interests
Ben is currently an Applications Engineer for ExxonMobil Chemical in the Baytown Texas Chemical Plant. Ben works with Advanced Process Control (APC) and automation of operations for safety, environmental, and economic driven applications. His expertise is in the development and application of optimization technology to the solution of process simulation, estimation, and control problems.
Education
Georgia Institute of Technology

B.S. Mechanical Engineering (2005)
Atlanta, GA

The University of Texas at Austin

Advisor: Dr. Thomas F. Edgar
M.S., Ph.D. Chemical Engineering (2012)
Austin, TX
Dissertation: Dynamic Modeling, Model-Based Control, and Optimization of Solid Oxide Fuel Cells
Publications
Spivey, B.J.; Edgar T.F., "Dynamic Modeling, Simulation, and MIMO Predictive Control of a Tubular Solid Oxide Fuel Cell", Journal of Process Control, Accepted Jan 2012.
Spivey, B.J.; Edgar, T.F., "Constrained Control and Optimization of Tubular Solid Oxide Fuel Cells for Extending Cell Lifetime", American Control Conference 2012, Montréal, Canada, 2012.
Spivey, B.J.; Hedengren, J.D.; Edgar, T.F., "Constrained Nonlinear Estimation for Industrial Process Fouling", Industrial and Engineering Chemistry Research, 2010, 49 (17), 7824.
Experience
Ben began his professional career with General Electric Energy in the Gas Turbine Technology group. He was responsible for managing instrumentation of hot gas path hardware, design and thermal analysis of turbine components, and managing component quality with suppliers.
In 2012 Ben joined ExxonMobil Chemical as an Applications Engineer following two internships at ExxonMobil Chemical in plant process control groups.
Interests and Awards
Mentor, FIRST Robotics, 2012
Mentor, Student Engineers Educating Kids through UT Austin, 2010
Member, American Institute of Chemical Engineering
Professional Societies

American Institute of Chemical Engineers (AIChE)